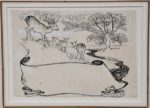 ARTHUR RACKHAM, (ENGLISH 1867-1939)
Framed Charming Detailed Pen and Ink Drawing by Arthur Rackham
The charming pastoral scene depicts a woodland, with a flowing river and several deer interspersed within rolling hills and trees.
Signed by Arthur Rackham as "A RACKHAM 99", within the lower right of the inked scroll
The art is in fine condition and was custom matted framed and glazed to a completed size of 15.5″ X 14.25″. A very unique stunning piece!
A beautiful 5.5″ x 4″ original delicate and vibrant pen and ink drawing by Arthur Rackham depicting what appears to be a chapter header or frontis for a book. The artwork depicts an empty scroll to the front, (and another smaller scroll which include's Arthur Rackham's signature and date of '99 to the lower right), beautiful lavish rolling hills, ornamental trees and aspectacular flowing river. Scattered about the scene are four meandering deer (with a fifth peeking out from the back). Floated in a brand new frame with a fantastic gilt ruled mat. A truly unique piece with a wonderful presence. Framed using all archival materials and UV glass to a completed size of 15.5″ X 14.25″. The art is signed by Arthur Rackham as "A Rackham '99" lower right.
Rackham's pieces were known for their luxurious use of color and keen attention to detail. His styles ranged easily from vivid, bright splashes of color to more muted, subtle tones. He became a member of the Royal Watercolour Society and mastered the watercolor method of painting, seen in many of his works. Many of the books Rackham illustrated include both his black and white, and color plates. Much of Rackham's work depicts gnomes, fairies, goblins or other creatures from mythology, folklore or fable. Whether illustrating whimsical books for children or darker matter for adults, Rackham's imaginative, brilliant illustration style was highly sought after and enhanced any text it accompanied. Rackham died in 1939, and now, more than 70 years after his death, his work is collectible and beloved.
A very stunning piece and showcases very well. Perfect for the Rackham collector.