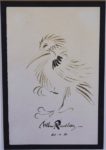 ARTHUR RACKHAM, (ENGLISH 1867-1939)
FRAMED ORIGINAL CHARMING PEN AND QUILL INK DRAWING OF A BIRD, LAVISHLY SIGNED IN FULL "ARTHUR RACKHAM", AND DATED "30.11.31"
A STUNNING DRAWING OF A BIRD, FRAMED TO A COMPLETED SIZE OF: 16.5″ X 14″
THE ART IS IN FINE CONDITION AND WAS CUSTOM MATTED, FRAMED AND GLAZED. A VERY STUNNING PIECE!
A beautiful original drawing in pen and ink of a bird, signed and dated to the front by Arthur Rackham. The art was custom matted, framed and glazed and is presented in a natural light maple wood frame, with a deeply beveled mat, framed using all archival materials and UV glass. The art is signed in full signature by Arthur Rackham as "Arthur Rackham" lower right.
The sketches were drawn by Rackham for his nephew William E. Starkie, on the occasion of a visit with his mother to Uncle Arthur and Aunt Edyth at Limpsfield in Surrey, 30th November 1931
Rackham's pieces were known for their luxurious use of color and keen attention to detail. His styles ranged easily from vivid, bright splashes of color to more muted, subtle tones. He became a member of the Royal Watercolour Society and mastered the watercolor method of painting, seen in many of his works. Many of the books Rackham illustrated include both his black and white, and color plates. Much of Rackham's work depicts gnomes, fairies, goblins or other creatures from mythology, folklore or fable. Whether illustrating whimsical books for children or darker matter for adults, Rackham's imaginative, brilliant illustration style was highly sought after and enhanced any text it accompanied. Rackham died in 1939, and now, more than 70 years after his death, his work is collectible and beloved.
A very stunning piece and showcases very well. Perfect for the Rackham collector.
FRAMED SIZE: 16.5″ X 14″