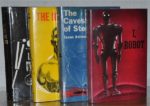 Gnome Press, New York, 1950
Doubleday & Company, New York, 1954
Doubleday & Company, New York, 1957
Doubleday & Company, New York, 1964
STATED First Edition, First Printings of the complete Four Titles of Asimov's Robot series, I ROBOT, THE CAVES OF STEEL, THE NAKED SUN and THE REST OF THE ROBOTS
A very handsome set of the four books in the Robot series, presenting well on the shelf. Each book is in beautiful near fine clean, crisp condition with near fine original dust jackets. I Robot has a laid in
bold signature
by Asimov. Details for each book are listed below by title. These represent all 4 of the scarce titles in the series, all in exceptional condition:
More Info »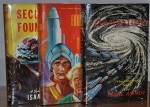 Gnome Press, New York, 1951, 1952, and 1953
FIRST STATE of the First Edition, First Printings
Near Fine, clean crisp books, Signed with laid in signature, near fine unclipped dust jackets.
More Info »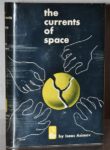 Doubleday & Company, New York, 1952
Scarce Stated First Edition, First printing
The true First printing of this title requires the first edition statement. Beautiful near fine book with a stunning near fine dust jacket. Asimov's sixth book and his third novel.
More Info »