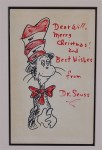 DR. SEUSS, (AMERICAN 1904-1991)
RENDERED IN BLACK AND RED FELT TIP
A STUNNING DRAWING OF "THE CAT IN THE HAT" SIGNED AND INSCRIBED BY DR. SEUSS, CUSTOM FRAMED MATTED AND GLAZED
More Info »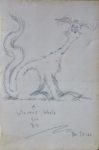 DR. SEUSS, (AMERICAN 1904-1991)
RENDERED IN GRAPHITE, A STUNNING DRAWING OF A "WINSTED WHELP" (A Dr. Seuss Whimsical creation)" SIGNED AND INSCRIBED BY DR. SEUSS WHILE AT A DINNER PARTY!
The art is in fine condition and is located within the front page of a year book, dated 1937 (see images), for the "Gilbert School", located in Winsted, CT. The entire book has been left intact and was framed such that only the page with the artwork is displayed. However the balance of the year book sits under the oversize mat
FRAMED TO A COMPLETED SIZE OF: 23" TALL X 21" WIDE, with the artwork page of 6" x 8.5" (by sight).
More Info »