Chilton Book Company, 1965
First Edition, First Printing
of DUNE by Frank Herbert, with the very scarce First State dust jacket. Near fine, crisp clean book with a stunning Near Fine dust jacket with the four lines for the publisher information on the rear flap.
More Info »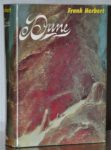 Chilton Book Company, 1965
First Edition, Second Printing
of DUNE by Frank Herbert. Part one of the Dune series (intially a trilogy), of one of the most significant science fiction novels of the 20th century. Stunning crisp book, with a vibrant original dust jacket.
More Info »