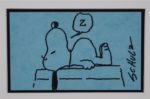 CHARLES SCHULZ, (AMERICAN 1922-2000)
FRAMED ORIGINAL BLACK FELT TIP DRAWING OF SNOOPY, ON A VIBRANT BLUE CARD
AN ADORABLE OF SNOOPY SNOOZING ON TOP OF HIS DOG HOUSE, W. COA/LOA
THE ART IS IN FINE CONDITION AND WAS CUSTOM MATTED, FRAMED AND GLAZED. A VERY STUNNING PIECE!
A Bold stunning full size drawing of Snoopy snoozing on the roof of his dog house! A beautiful original Charles Schulz Snoopy drawing in black felt tip, located on a light blue card, signed to the right edge in Schulz's hand as "Schulz". The piece was matted such as the card was floated in the frame surrounded by a mat. Snoopy has a speech bubble with a "Z" hovering over his head. The art was custom matted, framed and glazed and is presented in a black wood rubbed gloss frame (using archival materials and UV glass). The art is signed by Charles Schulz as "Schulz" lower right. The piece will come with a Certificate of Authenticity (LOA/COA), from Schulson Autographs, one of the premier institutions for autograph memorabilia. (see images)
A very stunning piece and showcases very well. Perfect for the collector/lover of Charles Schulz.
FRAMED SIZE: 13″ X 11″
INTERNATIONAL SHIPPING COST OF $75