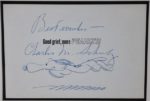 CHARLES SCHULZ, (AMERICAN 1922-2000)
LARGE FRAMED ADORABLE ORIGINAL PEN AND INK VINTAGE DRAWING OF SNOOPY RUNNING, 17.25″ x 14.75″
A STUNNING DRAWING OF SNOOPY W. COA/LOA
THE ART IS IN FINE CONDITION AND WAS CUSTOM MATTED, FRAMED AND GLAZED. A VERY STUNNING PIECE!
A beautiful large original Charles Schulz vintage Snoopy drawing in blue pen and ink. The piece was from the paperback book "Good Grief More Peanuts" with the title present on the paper. The artwork is scarce in that is was not inscribed specifically to anyone, and equally scarce in that the drawing depicts Snoopy doing his infamous "mad dash", equipped with grass along the bottom of the art. The art is presented in a rubbed black gloss wood custom frame; matted, framed and glazed (using archival materials and UV glass). The art is signed by Charles Schulz in full signature as "Charles M. Schulz" just above the snoopy drawing, along with his saluation of "Best Wishes-" bottom left. the piece will come with a Certificate of Authenticity (LOA/COA), from University Archives, John Reznikoff, who is the of the premier authenticators for PSA, James Spence and numerous auction houses. (see images)
A very stunning piece and showcases very well. Perfect for the collector/lover of Charles Schulz.
FRAMED SIZE: 17.25″ X 14.75″
INTERNATIONAL SHIPPING WILL BE $100