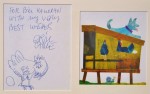 ERIC CARLE, (AMERICAN 1929-date)
PEN & INK ON HEAVY PAPER STOCK, FRAMED TO A SIZE OF 20.5″ X 14″10″
A STUNNING IMPORTANT PRESENTATION PIECE, SIGNED AND INSCRIBED BY ERIC CARLE, FROM THE BOOK, ALLES VOOR EEN PANNEKOEK
THE ART IS IN FINE CONDITION, FULLY MATTED AND FRAMED TO A FINISHED SIZE OF: 20.5″ x 14″
An original drawing in pen and ink of a chicken and egg, a presentation piece both signed and inscribed by Eric Carle to his close personal friend and peer, Bill Halloran (who was a worldwide educational consultant on children's literature). This drawing was located on a blank page of the book titled "Alles voor een pannekoek", written and illustrated by Eric Carle (translated into Dutch). The size of the original ink drawing of the art is 10″ x 8″ and is a wonderful images depicting a chicken staring at her egg. The size of the actual page is 10″ x 8″. (The reverse of side of the original art page is shown as the fourth image depicting a farm scene). The stunning ink drawing has been matted and framed to include both the page with the original Carle drawing along with a beautiful matching page from the book also showing the chicken. These have been framed together with fully archival materials and UV glass to protect the art.
Unlike many artists and illustrators, Eric Carle did not dedicate or sell his art, with the exception of his few dedicated pieces going to a close personal friend, Bill Holloran. Other than these pieces, the balance of his personal collection were pledged to The Eric Carle Museum Of Picture Book Art. As such, his original artwork in any form is extremely scarce and only one gallery currently even sells any works of Carle's. Simple line drawings, such as the one shown in the listing typically sell for $3800, with his more detailed art selling for $25,000 and up. See the Michelson Galleries for additional information on Eric Carle and his art.
***The original book from which the pages were removed and framed will accompany the art.