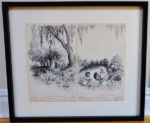 GARTH WILLIAMS, (AMERICAN 1912-1996)
ENORMOUS FRAMED DOUBLE TITLE PAGE SPREAD, FOR "THE GINGERBREAD RABBIT".
FINAL PUBLISHED PAGES RENDERED IN PEN AND INK ON PAPER BY GARTH WILLIAMS
FRAMED TO A COMPLETED SIZE OF 24″ X 21″
A stunning framed two piece set which represent the double title page from the book THE GINGERBREAD RABBIT (an image of the actual title page from the book is below for review). Both pages are the original published final pen and ink artwork by Garth Williams. The two pages were framed side by side to showcase the entire scene as shown in the published book. Each page is SIGNED in full signature by Garth Williams as "Garth Williams" in lower right corners of each sheet, and each page has the tiny publishers notes to the outer margins. Spectacular illustration of an entire scene of the woods, with the large rabbit burrow, the rabbit family and the gingerbread rabbit standing next to the 'father' rabbit who is smoking a corn pipe. Incredibly detailed and the perfect showcase piece for the lover of Garth Williams artwork!
Freshly framed and presented in a "rubbed" black frame using all archival materials and UV glass, framed to a finished size of 24″ x 21″. Absolutely stunning, and a quintessential one-of-a-kind piece by Garth Williams.
PROVENANCE
The art was purchased from an auction house , who in turn acquired these pieces direct from the estate of Garth Williams. Each piece is an original and sold directly from his estate. A copy of the original invoice will be included with each piece, and will provide both provenance and authenticity for the art.
**Garth Williams was a prominent illustrator of several of the most prominent children's books including Stuart Little (1945), Charlotte's Web (1952), The Cricket In Times Square, and The Rescuers (1959). Many of his original illustrations from these book have sold attaining high premiums, including his original illustration of the dust jacket for Charlotte's Web which realized $155,000 at auction in 2010, and between $10,000 and $75,000 for original artwork of the interior pages. Other notable auction pricing of Williams original illustrations include sales of the original artwork for the interior pages of Stuart Little which also averaged in the $15,000 range per piece.
*** No International Shipping, due to the size and weight of the piece