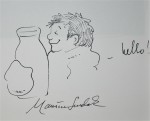 Harper & Row, New York 1970, TWENTY-FIFTH ANNIVERSARY EDITION
25th ANNIVERSARY EDITION Signed and inscribed by Maurice Sendak with a scarce large original drawing of the Mickey holding a bottle of milk! Near fine with a beautiful dust jacket.
A very near fine crisp book, with bright clean oatmeal cloth with Mickey on the front. The book has sharp corners and no edgewear. The binding is tight and square. The end papers are in perfect condition being clean and bright with no owner names, no bookplates and no bookstore stamps. The internal pages are clean, bright and flat, being crisp and sharp with no writing, no handling marks, no bent pages, no stains and no foxing. A beautiful book appearing as unread. Signed and inscribed by Sendak in full signature, "Maurice Sendak/ hello!" and in addition, Maurice Sendak sketched a drawing of Mickey holding a large bottle of milk! Please see detailed images.
The original unrestored dust jacket is in beautiful condition with but a 1″ intact tear to the spine bottom, and a tiny touch of nicking to outer corner tips. The dust jacket has strong vibrant colors, otherwise no edgewear, no chips, no rips, no fading and no foxing. The jacket is NOT price clipped and has a stated price of $15.95 on the dust jacket flap. Hint of a faded pale stain to front. A striking jacket presenting the book well on the shelf.
One of Sendaks more controversial titles due to the main characters pervasive nudity. A handsome clean, crisp example presenting well on the shelf. Scarce signed with a spectacular drawing.