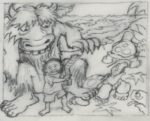 MAURICE SENDAK, (AMERICAN 1927-2012)
GRAPHITE ON THICK VELLUM, FRAMED AND MATTED TO 16.5″ X 14″; WITH THE ART 7.75″ X 5″ (SIGHT)
STUNNING ORIGINAL SKETCH FOR BELL ATLANTIC'S WILD THINGS ARE HAPPENING CAMPAIGN
Original Preliminary Graphite Studies for Bell Atlantic's Wild Things Are Happening Campaign: Turtles, 1998. The piece includes a protagonist girl caricature and "Bernard the Bull" Wild Thing sitting on the beach with the girl, surrounded with images of the ocean in the background and turtles and sea stars on the sand. An incredibly warm, joyful piece. Created for the promotional campaign of Bell Atlantic, introducing its services, from phone service to calling plans and high-speed internet data from 1997-1998, including billboards, television spots, massive print ads, culminating in their sponsoring a giant "Moishe" Wild Thing balloon for the Macy's Thanksgiving Day parade down Fifth Avenue in New York City. The campaign won an Effie award and a Clio award for Sendak's print ad illustrations. This was the most commercial use of the Wild Things which drew raves and mixed reviews from die-hard fans. Reference: Schiller/David: Maurice Sendak, A Celebration of the Artist and his Work, 2013. Page 99, see panel 9.
A stunning, important piece completely entrenched in the historic campaign! Presented newly framed with a deep beveled mat, and a lovely rubbed silver frame, using all archival materials and UV glass. Sendak signed the piece in full signature in the bottom right corner of the art. Perfect for a collector of Maurice Sendak art.
PROVENANCE:The art was purchased from an Auction House who was commissioned to sell several original illustrations by Maurice Sendak. A copy of the original bill of sale, lot number and the description will be included with the piece, and will provide both provenance and authenticity for the art.
This piece is SIGNED by Maurice Sendak lower right. The art is in great condition and presents beautifully. Artwork by Sendak of his main characters is very scarce!
** Maurice Sendak donated all of his original book illustrations to the Rosenbach Foundation in Philadelphia leaving very little of his original artwork available for private purchase.
INTERNATIONAL SHIPPING WILL BE AT FLAT RATE OF $100