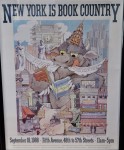 MAURICE SENDAK, (AMERICAN 1927-2012)
NEW YORK IS BOOK COUNTRY, 10th ANNIVERSARY 1988, 18.5″ x 23.5″
A STUNNING VIBRANT SIGNED POSTER OF A WILD THING IN NEW YORK
A stunning vibrant signed original poster created on glossy paper stock. Signed by Sendak, along the bottom right "To John/Maurice Sendak". Illustrator Maurice Sendak designed a spectacular poster for the New York Library promoting the 10th Anniversary with proceeds benefiting the New York library Children's Services. The image depicts a Wild Thing holding a banner reading "Tenth Anniversary" in its mouth, carrying English, German, and Italian books, and resting in a city street lined with several of New York's iconic bookstores such as Schulte's, Dauber & Pine, and the Strand. The Chrysler Building appears as the Wild Thing's hat, and the background features Art Deco statuary and Chicago's Brooks Building re-imagined as the "Books Building," with prominent dollar signs on the facade. The top border displays in large black type "NEW YORK IS BOOK COUNTRY." On the bottom appears the text "September 18, 1988 Fifth Avenue, 48th to 57th Streets 11am-5pm. Below this, much smaller type presents copyright, design, printing, and distribution information. The artist's signature appears below the lower right corner of the image.
A handsome poster with a slight touch of wrinkling to very outer edge upper left (hard to see in the image), otherwise in great condition. Would be stunning framed.
Sheet size: 23.5″ long x 18.5" wide
This piece is SIGNED by Maurice Sendak lower right.